hp-series300.netHP 9000 series 300 vintage computers
---
Introduction
This page is intended as a guide to setting up your own Hewlett-Packard 9000 series 300 hardware and operating systems. Much of the necessary hardware can be found readily on the second-hand market, usable copies of the main operating-system software are available and many original HP manuals have been archived. The essential software and documentation to get started are available to download directly from this page and much more is available on the internet, including some applications software.
As general references, the HP Series 300 Family Prices Lists of 1988 and 1992 are extremely valuable sources of information on the hardware and software configurations supported by HP (download 17 Mb zip archive here).
Page Contents
Acquiring Vintage HP300 Hardware
System Processor Units
The 300 series was a very successful product line and many components are still available on the second-hand market. The computers themselves, mostly having no internal disc drives or built-in monitors, are robust and quite likely to work. Model 310s and 332s appear most often on the market, while the top-end 345, 375 and 38x models appear infrequently. Because many use the same standard form factor SPU and vendors are not always very familiar with the range, it is sometimes difficult to tell which specific model is being offered for sale. It is possible to connect a serial terminal to an HP300 computer and test it without a proprietary keyboard and video board. On the other hand, a reasonably complete system comprises SPU, graphics interface card (unless the processor board has integrated graphics), HP-HIL IFT keyboard and mouse, monitor and either disc drive(s) or a mass-storage emulator. Additionally, many HP300 machines have a LAN interface that requires an external Media Attachment Unit to connect it to a modern network. A few models had internal disc drives and the R/3x2 models were entire systems in a rack-mountable box so, in the event that everything still functions, such a system is complete.
Keyboards and Mice
The HP-HIL IFT keyboard and both two- and three-button mice were used on several different series of HP computers and these are fairly easily sourced, although not necessarily cheap. Unfortunately, original HP-HIL cables, especially the coiled keyboard cable, are not so easily found. Workable cables can be home built from four-conductor telephone cable using two different crimp connectors - see here for further details.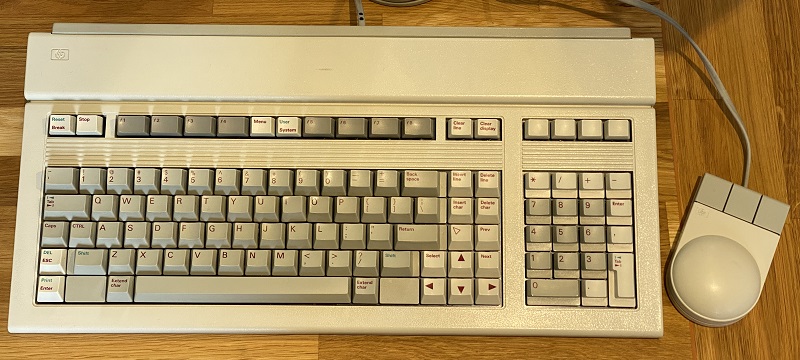 HP-IB Disc Drives and Emulators
Vintage HP-IB hard disc drives are rather fragile and less likely to work than the SPUs but are still available from time-to-time on the second-hand market. The 3.5" diskette drives are a bit more robust and, if the heads are intact, the most common failure modes (stuck head servo or disc-transport mechanism) are easily fixed by disassembly, cleaning and lubrication. Basic and Pascal can be installed easily onto small hard drives (e.g. 20 MB) but larger capacity is needed for HP-UX ranging from 150 MB for HP-UX 5 to at least 400 MB for HP-UX 9.10.
An alternative to using a fragile vintage HP-IB disc drive, or a valuable addition, is the HPDrive emulator developed by Ansgar Kueckes. This runs on PCs under either Windows or Linux and, seen from the HP300, behaves as an HP-IB disc, tape or CD-ROM drive. It requires an IEEE 488.2 GPIB interface card to be installed on the PC side and only certain cards will work, so follow the guidelines on Ansgar's website carefully. Bootable disc images ready to use with HPDrive are available here (see below). Another useful piece of PC software developed by Ansgar Kueckes is HPDir. This allows vintage HP-IB drives to be tested, read from or written to using the PC, and this is one way of transferring digital copies of original installation media onto diskettes or tapes operating in HP-IB drives (but note that HPDir does not work with HFS-formatted media). HPDrive is not the only available HP-IB drive emulator. The HPDisk emulator developed by Anders Gustafsson is a hardware solution implemented on a small PCB utilising a SD card as the storage medium. Bare PCBs are available, so one has to do some assembly, programme a microcontroller and install the device in some kind of enclosure. While HPDrive requires a host PC, HPDisk operates independently but is somewhat slower.
SCSI Disc Drives and Emulators
If your SPU has either a built-in SCSI interface, or a model 98658A SCSI DIO card, or a model 98265A SCSI daughter-board then SCSI drives can be used to advantage. Many SCSI-1 and SCSI-2 disc, tape and CD-ROM drives fitted with a 50-pin 8-bit SCSI-narrow interface will work with HP300 systems. SCSI storage systems are generally faster than their HP-IB counterparts (1.5 to 5 MB/s compared with 0.34 MB/s for standard HP-IB and up to 2 Mb/s for high-speed HP-IB, based on DMA transfers) and, often being slightly less antiquated, SCSI drives may be more reliable. Note that CD-ROM drives must be settable to transfer 512-byte sectors rather than the now-standard 2048-bytes per sector.
SCSI disc emulators can be very useful alternatives and, for example, the SCSI2SD emulators from codesrc are an excellent option. These offer a hardware solution, again utilising a SD card as the storage medium, and can emulate an array of up to 7 SCSI disc, tape and CD-ROM drives. SCSI2SD versions 5.2 and 6 are small PCBs with a full-size SD-card slot and 50-pin ribbon connector. They require only a suitable enclosure with standard interface connector(s) and, optionally, a 5 Vdc power supply. These emulator cards, can be setup with PC-based software (via the included USB port) as the terminal device on the SCSI interface and, in that case, are fully bus powered so that no external power supply is required. They even be mounted on a DIO-II size plate and housed within a standard form factor SPU. As of later 2022, production of new SCSI2SD cards has been suspended but the ZuluSCSI card from Rabbit Hole Computing is an excellent alternative with many of the same features. Two other SCSI emulators that might work are BlueSCSI and PiSCSI (formerly RaSCSI). SD cards are not 100% reliable (the industrial Class 10 SLC type are recommended) and so regular backing up to a PC is advised. Backing up the SD card is actually much quicker and simpler than making a tape backup from a real hard drive and these emulators are typically at least as fast overall as a physical disc drive.
Monitors and Video Interfaces
Vintage monitors are hard to find and maybe unreliable. Fortunately, some readily-available flat-screen monitors will work: click here for details of how to select and connect a monitor. If the processor board does not have an in-built graphics interface then an HP video board will be required; these can be hard to find but do occasionally appear on the second-hand market. The HP 98550a and HP A1416A 8-bit colour boards have the highest specifications.
DIO Interface Cards
Plug-in DIO-I interface boards were available for adding HP-IB, high-speed HP-IB, SCSI, GPIO, BCD, Serial, Datacomm and SRM interfaces. Many of these boards can be found in working order. A few DIO-II boards were developed by HP and third parties and may occasionally be found. Additionally, some of the earlier HP300 machines could be upgraded with additional memory or with floating-point accelerators via DIO plug-in cards.
LAN Interface
HP300 machines with a LAN interface used either a coaxial connector (for connection to a 10-base-2 network) or a more flexible 15-pin Attachment Unit Interface (AUI) that supported several different types of network. Some machines had both and jumpers to enable one or the other. With an AUI, a Media Attachment Unit (MAU) is required; the HP28685B 'EtherTwist' transceiver is the MAU that allows direct connection to a modern network via an RJ45 socket. However, the network must be capable of operating at 10 Mbit/second. For the coaxial system, a converter from the modern network to a 10-base-2 thinLAN is required. Several HP300s could then be connected in a loop or chain using coaxial cables with terminators.
Upgrading HP300 Hardware
HP300 computers are easy to upgrade to a certain extent. Most have the capacity to accommodate additional memory. It should be no surprise that HP used proprietary RAM boards and only a few third-party RAM upgrades were available. The memory boards changed from one computer model to the next; the HP price lists of 1988 and 1992 are a useful guide to the model numbers. The model 332 was shipped without a MC68882 coprocessor but this component can be added to improve the speed of floating-point arithmetic (use part number MC68882FN16A). Models 375, 380 and 385 use the same main processor board. On the 375, the 68040 CPU socket is empty and a daughter board with a 50 MHz 68030 processor was used. The model 380 has a 25 MHz 68040 CPU and the model 385 a 33 MHz 68040. The model 380 can be upgraded to the 385 specification by changing the CPU and the adjacent onboard oscillator, which runs at twice the CPU clock speed. There is also a jumper close to the CPU that can be set to either 25 MHz or 33 MHz. Memory speed is a factor here. The model 380 had plug-in RAM boards, initially based on 80 ns memory chips, arranged in pairs that were accessed on alternate clock cycles. The 33 MHz setting introduced a wait state so that each bank was addressed no more frequently then every third clock cycle (90 ns). Model 375s can also be upgraded to the 385 specification but these machines also need a boot ROM exchange from version D to version 2.0, as shipped with models 380 and 385. The boot ROM is a 1 Mbit one-time programmable EPROM in a PLCC-44 package (Intel part No. N27C210-200V10). The necessary firmware can be found in the Bitsavers archive, along with the contents of the 16 Kbit configuration EEPROM (Xicor part number X2816BJ-25, LCC32 package). Some model 345s can probably be upgraded in a similar way, although this was not supported by HP. Success may depend upon the version of the U21 memory controller chip fitted on the 345 processor board. This chip is identified as 1LYn-0302 or 1LYn-0304; models with n >= 2 may be upgradable to MC68040 at 25 MHz.
The Motorola 68040 series actually included a 40 MHz version (used in some Apple Mac and Amiga computers). This can also be fitted and appears to work with BASIC/WS although I found it unreliable when running HP-UX. Since 3 clock cycles is then 75 ns, 70 ns or faster RAM chips may be required.
Beyond processor and memory upgrades, a host of plug-in boards are available to add interfaces and other functions. Consult the 1988 and 1992 300-series price lists for further details.
Installing Operating Systems
Software for HP-300 machines was released on a variety of media: 3.5" diskettes (both SS/DD and DS/DD) were used for BASIC/WS, Pascal Workstation and early versions of HP-UX; later 1/4" cartridge tapes and finally CD-ROMs were used for the HP-UX operating system and HP-UX applications software. Surviving versions of software originally released on diskettes are mostly archived in the Teledisk format, while tape images are typically direct copies (made with the HP-UX dd command) and CD-ROMs as ISO image files. The LIBDSK utility suite can be used on Windows or Linux to translate Teledisk files to the flat file format used by HPDir, HPDrive and HPDisk (example command format: dskconv -otype raw File.TD0 File.hpi).
Procedures for installing each HP operating system from scratch are detailed below and the installation software can be downloaded together with the manual sets. Additionally, a hard-drive image file, ready for use with the HPDrive utility, is available to download. This is a multi-boot image with BASIC/WS 6.4, BASIC PLUS 6.33, Pascal Workstation 3.25 and HP-UX 9.1 sharing the same virtual disc, emulating an HP C2203 670 Mb HP-IB drive. A similar image for the NetBSD operating system is also available. See below for download links.

Installing HP-BASIC/WS, HP-BASIC PLUS and Pascal Workstation on the 300 Series
The last version of HP-BASIC/WS was 6.4. Multiple versions of BASIC/WS can be found on the internet (including 5.1, 6.2, 6.3 and 6.4). Version 6.4 is year 2000 compliant but earlier versions are not. From version 4.0 onwards, HP-BASIC/WS was released on a set of 3.5" diskettes, one of which was bootable. A full system comprises the core plus a set of binaries which add various features of the language and provide support for specific hardware, such as frame buffers and interfaces. Utilities are also provided for identifying and formatting disc drives. A full installation set is available to download (see below); this includes the optional BASIC compiler binary.
HP BASIC PLUS is not an independent operating system but an extension to BASIC/WS which, nevertheless, can be stored as a separate bootable system. The last version of BASIC PLUS was 6.33, released on six DS/DD diskettes which have been archived as hpi-format images ready for use with HPDir and HPDrive. The installation set is available to download (see below); installation notes are provided as well as a brief third-party description but the original manuals have not been archived.
The last version of Pascal Workstation (PAWS) was 3.25 and this can be recommended for all HP300 systems. It was originally available on both SS/DD and DS/DD 3.5" diskettes, one of which was bootable. A full set of SS/DD disc images and manuals are available the HP Computer Museum, while the DS/DD disc images in hpi format, the full manual set and an outline of the installation procedure are available to download from this site (see below). The procedure for installing PAWS onto a hard drive is quite similar to BASIC/WS but, with the original boot discs, is a bit more complicated in the way that interface drivers are loaded; however, the slightly-modified boot disc in the version provided here already includes the necessary drivers for HFS volumes and SCSI disc drives.
If you plan to install BASIC/WS and/or PAWS on the same hard drive as HP-UX then you must install the latter first and then (following instructions in HP's documentation or the notes provided with the downloads from this site) make the drive accessible to BASIC/WS and/or PAWS. In this case, the drive will already be formatted with the HFS file system. When installing HP-UX, choose the option for short (14 character) file names to ensure compatibility with BASIC/WS and PAWS.
Installing HP-UX Version 9.x on the 300 Series
The last version of HP-UX capable of running on 300-series hardware was 9.10. Original installation media are very rare but copies of both HP-UX 9.00 and HP-UX 9.10 are available on the internet: version 9.00 as tape-image files and version 9.10 as ISO CD images. Neither version is year 2000 compatible but patches are available for 9.10.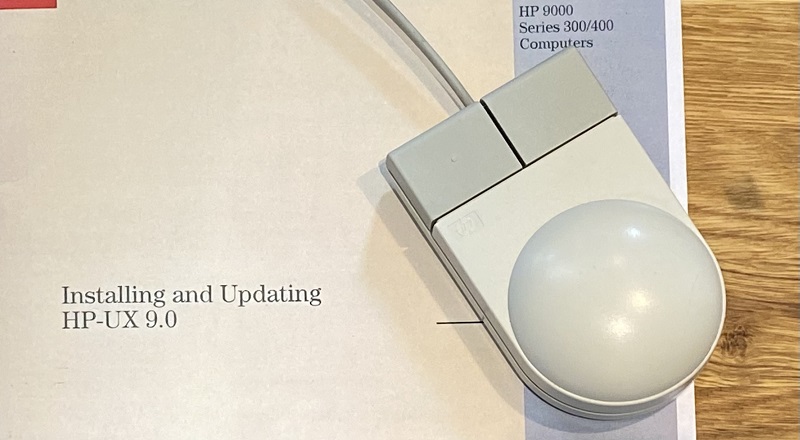 There are several options for installing and running HP-UX on your HP300 depending upon the type of system disc or disc emulator you plan to use. HP-UX will install easily only onto hard drives detailed in /etc/disktab. With HP-IB, the issue is obtaining a working drive of adequate capacity (not a problem if you use the HPDrive emulator instead of a physical drive). SCSI drives offer the best performance and many, but not all, SCSI-1 and SCSI-2 drives will work as the bootable system disc. Note that there are limits on the maximum formatted capacity of exactly 2 GB for a bootable drive and 3.999 999 GB for other drives.
If your HP300 has a SCSI interface then a good option is to use a SCSI-1 or SCSI-2 CD-ROM or DVD drive as the installation source drive (note that it must be capable of using 512-bytes sectors) and a compatible SCSI-2 hard drive or emulator as the system disc. You can burn the iso disc images onto CD-R media on a PC but note that the install disc includes a boot block and, on a Windows PC, the iso image may appear as corrupted but actually still be usable. The solution is to use third-party CD-burner software that can work with bootable image files.
Once the installation media are prepared, the process to install from a SCSI CD-ROM drive onto either a SCSI or an HP-IB hard drive is as follows:
1. Insert the first (install) CD into the drive and power-up the system. Press the space bar after the keyboard driver loads and select the HP-UX system on the CD for booting. A skeleton HP-UX system is then loaded and a menu system guides you through the process of preparing the hard drive.
2. Once the first stage is completed, the system will reboot and ask you to insert the second (update) CD from which it will install the packages necessary to build the full HP-UX kernel. Accepting the default options will install all available packages. Once loaded, the system will compile the packages and store the new kernel.
3. Without resetting the real-time clock, apply the YR2k patches. To do this, inset the CD with the patches, mount it (mount /dev/bsrc /UPDATE_CDROM), execute /etc/update and follow the menu instructions to select the source and destination drives.
If you can't use a SCSI CD-drive as the installation source then you must use either a physical HP-IB tape drive (which will require either original or reproduction installation media) or the the HPDrive emulator and a GPIB card on a PC. HP-UX version 9.00 can be installed using HPDrive to emulate an HP 9144 tape drive. The process is then similar to that described above for version 9.10. HPDrive can also emulate an HP-IB CD-ROM drive and mount ISO images. However, attempting to install HP-UX 9.10 in this way fails, apparently because of an anti-copying security feature in the installation software that HPDrive does not respond to.
The full installation set for HP-UX 9.10 is available together with installation notes (see below) and a partial set of manuals. The Master Index of 1992 (HP P/N B1864-90013) lists 20 HP-UX manuals in addition to the three-volume HP-UX Reference set; 11 of these manuals plus the HP-UX Reference are available as scanned pdfs (see below). To access a more-complete set of manuals, including manuals for applications software, one can obtain HP LaserROM HP-UX Release 9.0 (HP P/N 50726-10230) from the HP Computer Museum and install it on either an HP300 computer running HP-UX 9 or a PC running Windows XP or earlier.
In the case that you plan to use an HPDrive or HPDisk emulator as your system disc, setting-up is simple. HP-UX version 9.00 is available from the HP Computer Museum as an image file (again thanks to the efforts of Ansgar Kueckes) and version 9.10 is available from this site (see below).
Downloads
Hewlett-Packard 9000 Series 300 Operating Systems - Pre-Built Images
Two pre-built images, ready for use with the HPDrive PC-based mass-storage emulator, are available to download. Both images emulate a 670 MB HP C2203 hard drive. To use one, start HPDrive with 'hpdrive -C2203 -d file.hpi' and boot the desired operating system on your workstation. The same image files should be usable with HPDisk, although this has not been tested and a configuration file for the C2203 hard drive will be needed. The first image has the full suite of HP operating systems sharing one HFS partition (note that this restricts HP-UX to short 14-character file names). The second image contains the NetBSD v9.2 operating system and is arranged with one large partition for the root file system plus swap space. No corresponding image for OpenBSD is available as the OpenBSD/hp300 CD-ROM installation program only installs successfully onto SCSI drives.
Additionally, an iso CD-ROM image has been prepared with the BASIC/WS 6.4 and Pascal 3.25 operating systems installed. Also included are all files from the BASIC 6.4 and Pascal 3.25 installation diskettes, all BASIC PLUS 6.33 binaries and the Basic 6.x compiler binary. This CD-ROM is bootable and so can be used to install these operating systems onto a hard drive without the need to use floppies. Boot ROM revision 2 is required to boot from a SCSI CD-ROM drive. To install onto a suitable system disc, one can boot BASIC/WS from the CD-ROM, use the /WORKSTATIONS/DISC_UTIL/DISC_UTIL program to format the system disc and then manually copy everything (except /SYSTEMB64) from the CD-ROM to the new disc. To complete the installation for Basic, MSI to the root directory of the system disc and use the STORE SYSTEM "SYSTEMB64" command. To complete the installation for Pascal, re-boot into Pascal and use the OSINSTALL utility to make the file /SYSTEM_P on the system disc bootable (see "Installing Pascal on an HFS Disc" in the Pascal 3.2 User's Guide).
Downloads:
HP-OS-C2203.zip (131 Mb zip archive)
NetBSD-C2203.zip (183 Mb zip archive)
B64_P325_Boot_CD.zip (5 Mb zip archive)
Hewlett-Packard 9000 Series 300 Operating Systems - Install from Scratch
Use these files to install an operating system from scratch. Both HP-UX and OpenBSD require use of a compatible SCSI CD-ROM drive, while the other HP operating systems files contain diskette images that can be copied onto DS/DD diskettes for use in an HP-IB floppy disc drive or used with the HPDrive HP-IB mass-storage emulator. No CD-ROM installation media are available for NetBSD but it can be installed mainly via ftp download provided that you first have a means of dumping the SYS_INST boot code and the miniroot file system onto a suitable hard drive or emulator; this process is described in the install notes.
Many of the files available here were sourced from either the HP Computer Museum or the Bitsavers Archive.
Earlier versions of HP-UX can be installed from scratch using files from the table below. These are tape images in .hpi format for use with the HPDrive HP-IB mass-storage emulator and can be used with systems that lack a SCSI CD-ROM. The command line for the install tape is e.g.'hpdrive -9144-150 HP-UX7.0Install.hpi', while the update tapes are invoked with e.g. 'hpdrive -9144-600 HP-UX7.0Update1.hpi'. The manual sets contain installation guides. Unfortunately, there is no tape image for HP-UX 9.10.
The files available here were sourced from either the HP Computer Museum or the Bitsavers Archive.
Setting-Up a Helper PC
The process of setting-up an HP300 system almost certainly requires a 'helper' PC, especially one capable of running HPDrive and HPDir and other emulator software such as SCSI2SD. An FTP server running on the PC is also invaluable as a means of tranferring files to an HP300 system running HP-UX. These applications run on modern PCs with 64-bit Windows or Linux operating systems. However, some tasks such as viewing manuals using HP's LaserROM PC software, require Windows XP or earlier. One option that seems to work for running (some) older PC software, and which avoids maintaining a vintage PC, is to run Windows XP as a virtual machine.
To use both HPDrive and HPDir one needs a compatible IEEE 488.2 GPIB interface card in the PC. By consulting the web pages for both HPDrive and HPDir, one should be able to identify interface cards that support both and, hopefully, find one for a modest cost. National Instruments PCI-GPIB cards may be a good option.